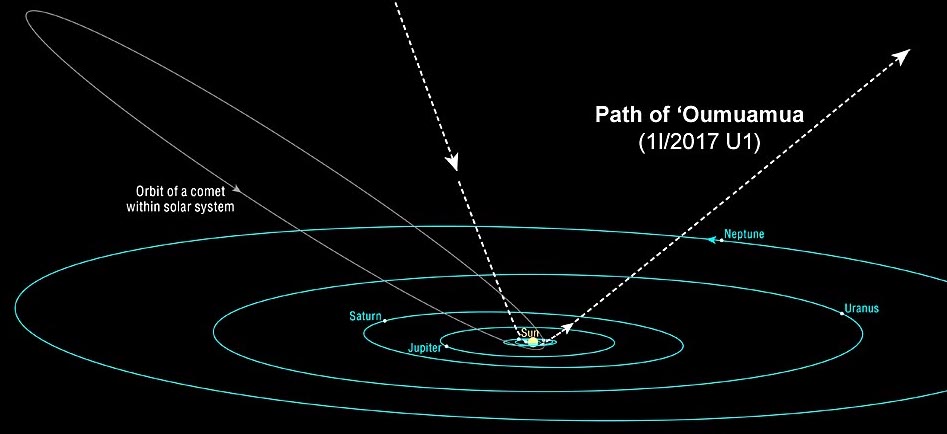 1I / 'Oumuamua was been the first interstellar object (beyond dust particles) that has ever been detected crossing our solar system. Its interstellar origin is unequivocal because its orbit is clearly hyperbolic, very different from the orbits of the solar system comets. Despite the fact that for decades the detection of an object of these characteristics had been anticipated, its discovery has been a surprise and has left many open questions.
.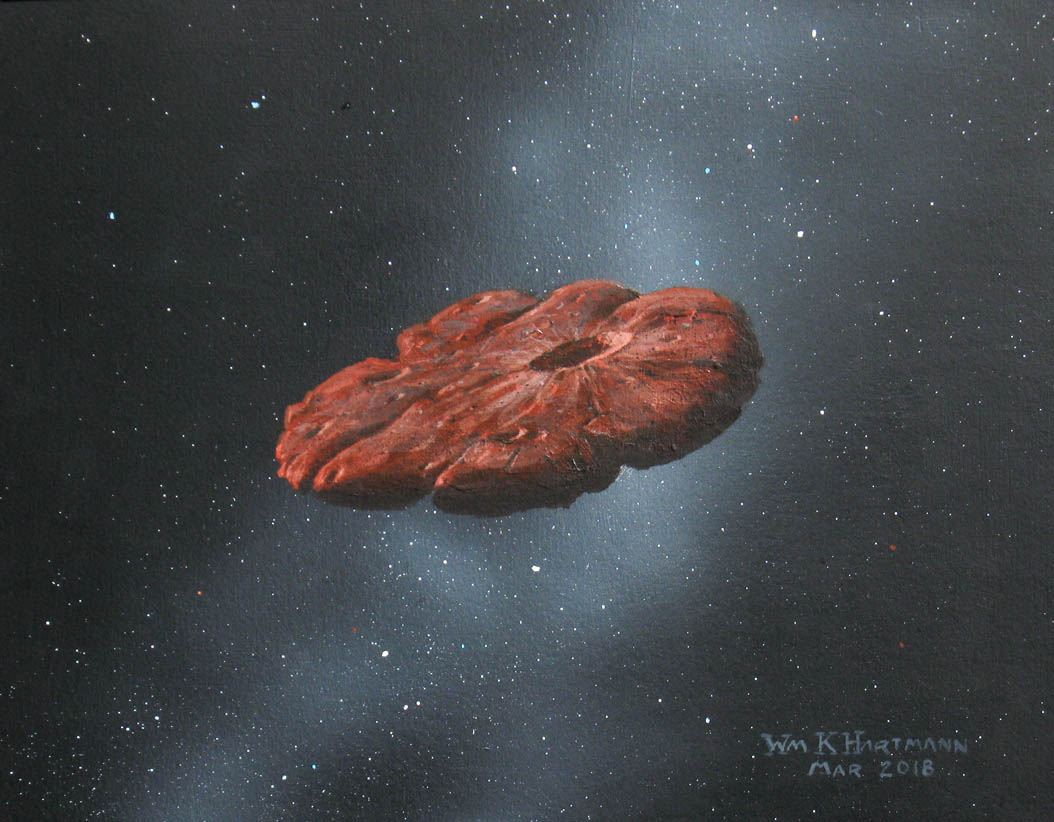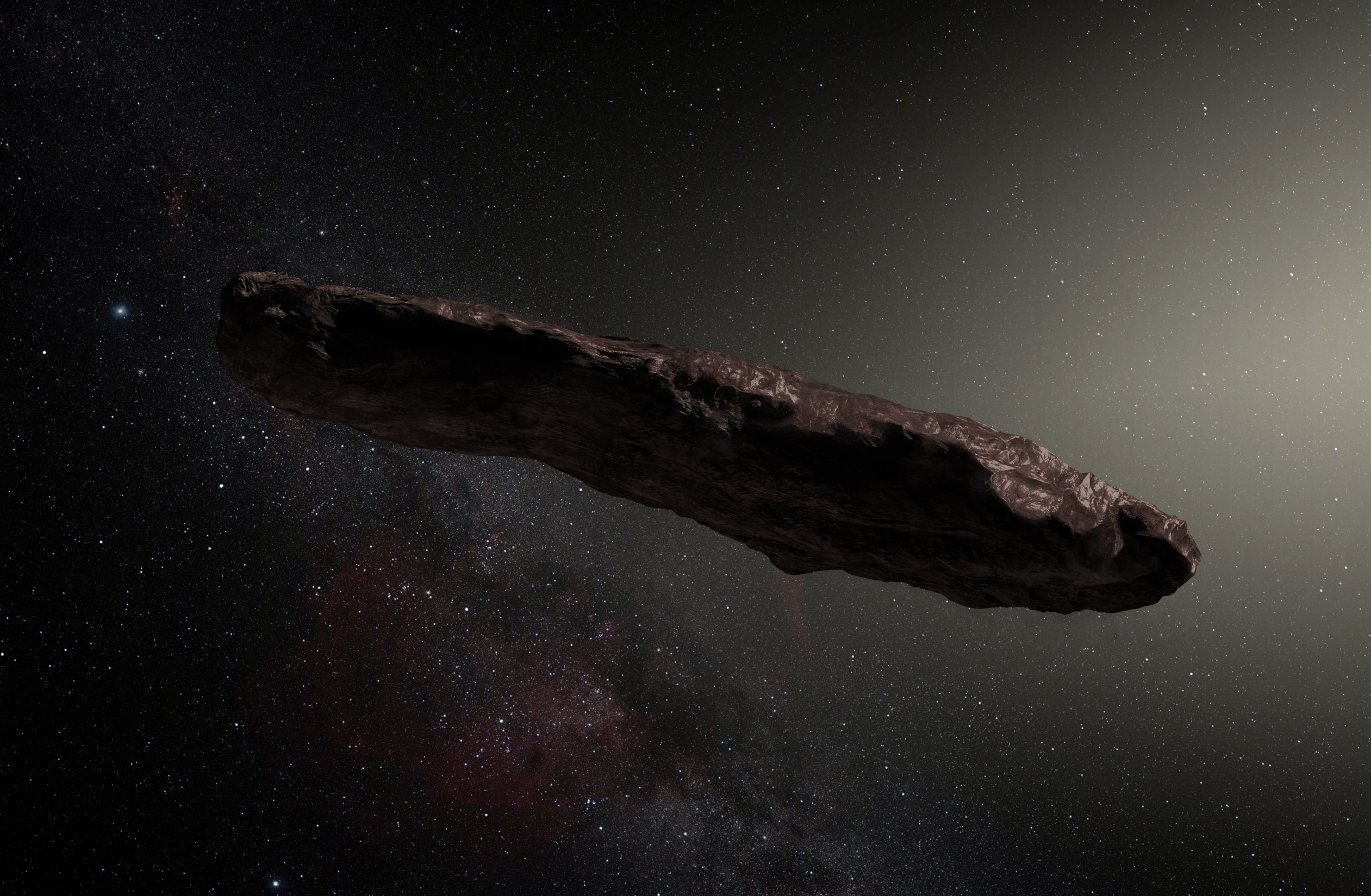 Among the questions left unanswered are those related to its physical properties, such as its size, shape and albedo. 1I / 'Oumuamua is a very small object, of the order of about 100-200 m in diameter, much smaller than the comets that we usually observe in our solar system that are several kilometers in size. The only reason why 1I / 'Oumuamua could be detected, despite its small size, was because it happened to pass very closed to the Earth on its way out of the solar system. That's partly why his detection caught us by surprise. 1I/'Oumuamua presents drastic flux variations that have been attributed to a very elongated or oblate shape that is rotating (like the images shown on the right), so the object would appear very bright when it is oriented in a way that you see more or its projected area, and very faint when it is oriented in a way that you see less of it. But this is under the assumption that its albedo (or reflectivity) is uniform. If there were variations in the albedo (or reflectivity) across the surface, they could also contribute to the observed flux variation and in this case the object wouldn't need to be that elongated or oblate. These albedo variations could be caused, for example, by fresh ice being deposited on some areas of the surface making them brighter, or by irregularities in the surface relief causing self-shadowing. Unfortunately, 1I/'Oumuamua was not detected in thermal emission, which could have set stronger constrains on its size, shape and albedo.
Another open question is that, if you assume that 1I/'Oumuamua is representative of a background population of objects that is uniformly distributed in space, it is very difficult to account for all the free-floating 1I/'Oumuamua-like objects that this would imply are out there. In two previous papers, I have studied two of the most obvious potential sources of those free-floating objects: the ejection of planetesimals from protoplanetary disks and the unbinding of objects from the Oort clouds of other stars (due to the stars losing mass as they get old, or due to encounters with other stars). I found that protoplanetary disks and exo-Oort Clouds could only contribute to less than 1% of the objects that are supposed to be out there. My conclusion is that 1I/'Oumuamua is likely not representative of a background population of free-floating objects but that it originated from a nearby star. The objects it ejected would not be uniformly distributed in space implying that there is not more material out there that we can account for. Furthermore, we think this nearby system was probably young because 1I/'Oumuamua, when it entered the solar system, was found to be moving at a velocity that is similar to the mean motion of the material in the neighborhood of the Sun, and this is the typical mean motion displayed by young stars (as time goes by and the stars age, their mean motion increases due to the effect of passing stars, giant molecular clouds or spiral arms).
The other open question regarding 1I/'Oumuamua is the non-gravitational acceleration that was found in its outbound trajectory (Micheli et al. 2018). Something is "pushing" the object causing an excess acceleration. This effect has been observed in comets and the "propellant" in those cases is the outgassing that is produced when the cometary ices evaporate. It has been suggested that this is what is "pushing" 1I/'Oumuamua as well, but the problem is that the observations did not see any cometary activity in 1I/'Oumuamua. For example, the Spitzer observations published by Trilling et al. (2018) set upper limits to outgassing are at least 100 times smaller than what would be required to explain 1I/'Oumuamua's excess acceleration. But these observations are only sensitive to a small number of gas species. If the composition of 1I/'Oumuamua were to be significantly different from that generally observed in comets, it could be that there is enough outgassing to "propel" the object from gas species that we could not have detected. Some comets do show significant variations in volatile components so it is a plausible explanation.
Because of the lack of evidence of outgassing, Bialy and Loeb (2018) proposed that the "push" could be due to the pressure exerted by the radiation coming from then Sun, i.e. from radiation pressure. But they argued that for this to work, 1I/'Oumuamua would have to have an extraordinarily unusual geometry: a sheet that is only 0.3 to 0.9 mm thick. They suggested that 1I/'Oumuamua might represents a new class of thin interstellar material that is either produced naturally by an unknown process or artificially, like a lightsail.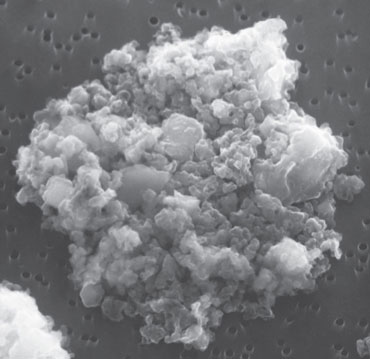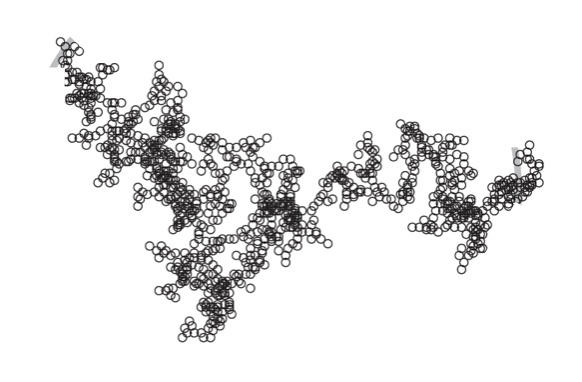 What I am proposing in this new paper is that radiation pressure could also produce the observed excess acceleration if the object, rather than having a planar sheet geometry, were to have the structure of a mass fractal (like the image shown on the left). I suggest a mass fractal structure because mass fractals provide a high area-to-mass ratio (required to be pushed by radiation pressure) and are found in many forms of nature. They are thought to arise naturally because their formation processes involve an element of stochasticity, like particle collisions in a solution, in a molecular cloud, or in a protoplanetary disk. The unaltered cores of interplanetary dust particles (that can be collected and analyzed in the lab) are indeed mass fractals (an examplo of an interplanetary dust particle is shown in the image on the rigth). It my paper I find that for radiation pressure to account for the observed "push" in 1I/'Oumuamua, its fractal properties would be such that its density would be extraordinarily low density (of the order of 10-5 g cm-3 - lower than graphene aerogel, the lowest density, synthetically-produced material known – lighter than air). In the paper I point out that, at the microscopic level, there is observational evidence of the existence of very porous aggregates with extremely low densities < 10-3 g cm-3, detected by the GIADA instrument on ROSETTA and possibly also by Stardust. At the macroscopic level, evidence of the existence of such ultra-low density aggregates comes from numerical simulations.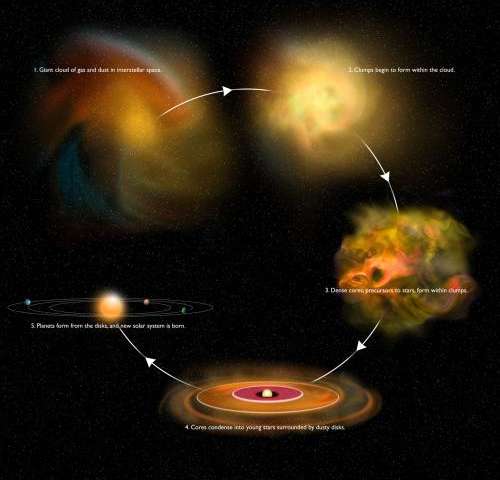 Let me give you some background before I tell you about these simulations. Stars are born in molecular clouds of gas and dust (in the image on the right this stage is represented by the two top figures). In some regions of the cloud the density is higher and this makes the region contract under the effect of its own gravity, eventually forming a ball of gas that is much denser and hotter than the rest of the cloud (in the image on the right this stage is represented by the middle-right figure). We call this a protostar. Around this protostar there is an envelope of gas and dust that is rotating and contracting at the same time. Because of conservation of angular momentum, this envelope transforms into a disk (bottom figure in the image on the right). The dust in this disk is primordial, i,e, the same dust that was originally in the molecular cloud out of which the protostar was born. These dust particles are very small, about 0.1 microns in size, and in the disk they collide with each other frequently. In some of these collisions, the dust particles stick to each other and form aggregates, that grow larger and larger as the aggregates themselves experience subsequent collisions forming what we call planetesimals. This is the very early stage of a process that, under some circumstances, can lead to the formation of planets, first the solid cores and then the giant planets, as the most massive cores attract the gas in the disk forming gaseous envelopes (this stage is represented by the image on top). There are numerical simulations that study this collisional growth of dust particles and they predict that, if the primordial dust particles are icy and about 0.1 microns in size, the aggregates that form beyond the snowline of the disk (i.e. beyond the region of the disk where volatiles like water, carbon dioxide, and carbon monoxide can be in ice form) will have a fractal structure that could have properties similar to the ones that would be required for 1I/'Oumuamua to be "pushed" by radiation pressure. So the idea is that 1I/'Oumuamua could be one of those intermediate early product of the planet formation process, that arise naturally from the collisional growth of icy dust grains. Since, under this scenario, the particles are required to have an icy component it could also be that the excess acceleration (the "push") is due to a combination of radiation pressure and some level of outgassing.
From the observational point of view, very little is known about these intermediate early products of planet formation around other stars because the observations only trace the two extremes of the size distribution: the dust particles in the small end and the planets in the large end. We only have information about these intermediate stages from our solar system and these are the comets that are thought to have experienced little alterations since they were formed. Comets are also aggregates but with much higher densities of about 0.1 g cm-3, i.e. not porous enough that the radiation pressure would cause the excess acceleration observed in 1I/'Oumuamua. So what is being proposed in this new paper is that 1I/'Oumuamua, rather than looking like the more compact planetesimals in our solar system (the comets or the more altered asteroids), resembles more one of those intermediate products of the collisional growth of icy dust particles predicted by the numerical simulations that are unlike anything we can observed in our (old) solar system.
If 1I'Omuamua were to have such an origin, it would be extraordinarily interesting because its discovery would have opened a new window to study the building blocks of planets and this could set unprecedented constraints on planet formation models. I mentioned above that the collisional growth of dust particles can, under some circumstances, lead to the formation of planets, but there are many open questions because there are several barriers to the growth of dust particles that can impede planet formation. We know that in some cases these growth barriers are overcome because planets do form (we detect them!) but how this happens is still under investigation. The numerical simulations that I mentioned earlier suggest a possible solution to the growth barriers and is that the building blocks of planets are fluffy icy aggregates, with properties that might be similar to those that would allow 1I'Omuamua to be "pushed" by radiation pressure. This is why any type of observation that could shed light on the nature those building blocks would be very helpful in order to set constrains on planet formation models. And it would be just wild if it were the case that one of those building blocks were to cross the solar system as an interloper (like 1I'Omuamua did). It would be almost as having a free return mission to an extrasolar planetary system.
Many things need to be studied to assess the viability of this hypothesis. One of the main aspects that need to be studied is the survival of such a porous aggregate under different stresses, including tidal disruption (while in its parent system and while crossing the solar system), rotational disruption, and collisions with interstellar grains. The studies that have looked into these aspects have generally focus on significantly more compact objects and would need to be extended to study the survival of ultra-low density aggregates. Another aspect that would need to be investigated is to what degree the aggregate will get compressed due to ram pressure by the gas encountered in its parent system, during its long interstellar journey, and when entering the solar system. And then, one would also need to investigate if the optical properties of such an aggregate would be consistent with the observations of 1I/'Oumuamua.
Another potential origin of such an ultra-porous object has been proposed by Z. Sekanina (arXiv:1901.08704). He points out that comets that pass close to the sun (at a distance smaller than the orbit of the Earth around the sun, q < 1 AU) commonly suffer sudden disintegration shortly before their closest approach to the sun and that the debris resulting from this disintegration process could include large, devolatilized, ultra-porous aggregates that may have an exotic shape and peculiar rotational properties (the image on the right shows the partial disintegration of comet LINEAR). He therefore proposes that 1I'Oumuamua is a fragment left behind by the disintegration of a larger interestellar comet. This origin could explain 1I'Oumuamua's extra acceleration (because it would be subjected to radiation pressure from the sun), its irregular shape, rotation state, and for the fact that no outgassing has been detected.
We would never be certain regarding 1I/'Oumuamua's nature and origin because this object is now beyond our observing capability and the observations we have of it are limited. We will likely have to await for future encounters with other interstellar interlopers to assess whether 1I/'Oumuamua's unusual properties are common among this population. It would be at that point that we will be able to place more constrains on the origin of these bodies.